Genius
The quiz-based learning app.
Genius is an intuitive quiz-based consumer-grade experience that engages your learners by introducing competition, recognition and intrinsic motivation. With six quick-fire questions at a time, players go head-to-head with their co-workers. A framework that can be customised to your organisation's needs and branding, Genius delivers insights through rich analytics dashboards and is easy to connect to your secure existing learning systems.
Genius celebrates employee recognition, both as individuals and teams and measures employee knowledge across regions, so you will always know just who knows what, enabling you to direct your Learning and Development (L&D) spend more effectively. Discover more about this exciting employee engagement experience which delivers highly engaging bite-sized microlearning to align with your organisation's learning and development goals.
---
Genius is a key part of our training strategy in that it enables us to embed and increase levels of knowledge in our retail network in a really nimble, fun way. Microlearning at its best!

Global Automotive Client, Learning and Development (L&D) Lead
---

Sparks curiosity. Ignites learning.
Genius delivers consumer-grade learning on a mobile. Its engagement software lets learners compete and connect with their co-workers as they climb the leaderboard, win prizes and gain the recognition they deserve as they improve. It takes just a few minutes a day for learners to keep their knowledge topped up.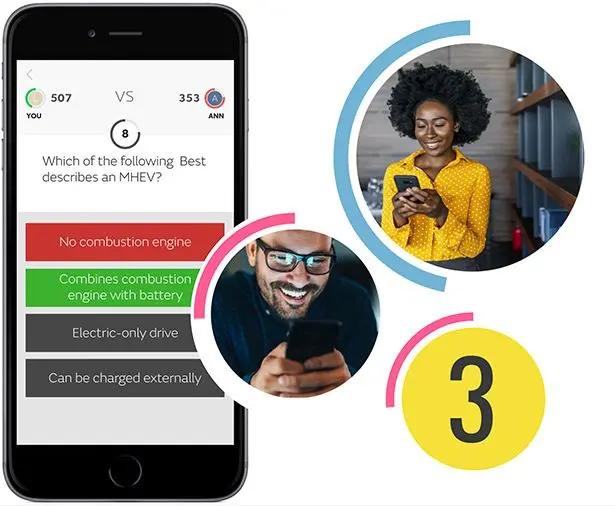 ---
---

Microlearning with Global Competition
With the ability to deliver all kinds of remedial learning to achieve expected competencies, Genius increases participation through friendly head-to-head competition across your entire organisation, whether that is local or global and has the agility to be customised to particular groups.
Get in touch.
Unlock your talent is potential with us.
Transformation does not happen overnight if you are doing it right. We continuously deliver measurable outcomes and help you stay the course – choose the right partner for your journey.
Our suite of offerings include:
Consulting Services | Aligning vision and strategy to deliver integrated and systemic business results to drive growth and change through people.
Learning Services | Modern learning strategies, content, experiences, and delivery approaches that optimise workforce performance.
Technologies | An ecosystem of learning and talent tools, systems, platforms, and expertise that enable learning and talent transformation.
Your Talent Transformation Partner
Discover a new way to engage learners.